Trends in recyclable and biodegradable packaging
Switch to PHA and use less plastic
New packaging for Skittles
From end of this year or the beginning of next year 2022, Skittles plans to introduce biodegradable packaging. As a collaboration between Danimer Scientific and Mars Wrigley, the new package will be using Nodax® polyhydroxyalkanoate (PHA) that sourced from the seeds of plants such as canola and soy. The material has been certified as biodegradable in soil and marine environments.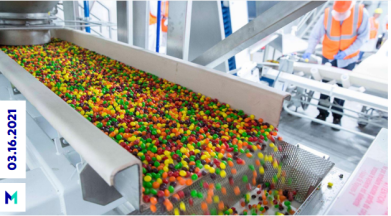 The British 7UP bottles switch from green to transparent
The British 7UP bottle is changed! This summer, several 7UP bottles (375ml, 500ml and 600ml capacities) will transition from their existing green colour to clear PET, with the aim of making them easier to recycle. In fact, the transparent transformation of PET bottles started as early as 2 years ago, when Coca-Cola changed its 50-year-old Sprite bottle from green to transparent. It attracted a lot of attention in the packaging industry at the time.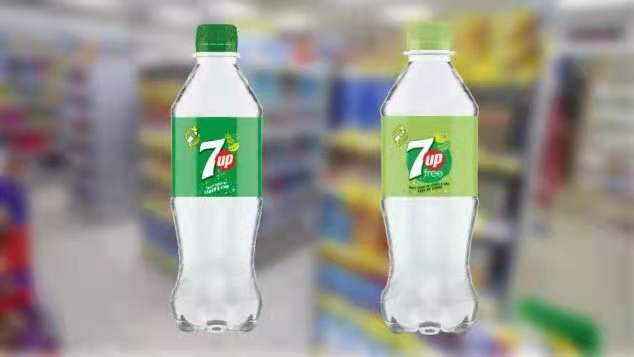 Nestle develops two new packaging innovations for its Vittel natural mineral water bottles
On June 8, Nestle announced two new packaging innovations for Vittel natural mineral water bottles. The new packages were developed by experts at the company's research and development (R&D) centre for Waters in Vittel, France. The first innovation is the Vittel GO system, which consists of a reusable hard protective case that is made with 40% less plastic. The second is a 100% recyclable Vittel Hybrid bottle that is made from two types of material.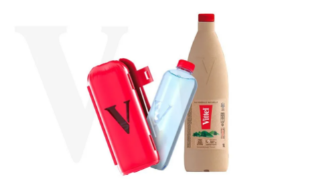 (Photo source:Nestle Official site )
Various green packaging giants would introduce their new products
in "Green Power Zone" in swop 2021
Green Power x swop Green Power Zone
Recyclable X Biodegradable X Material Reduction
As a member of the interpack alliance, the world's leading packaging machinery and processing exhibition, swop is committed to catering to the sourcing needs across the whole packaging production chain, and bringing leading and cutting-edge technology for industry participants. This year, with a focus to achieve carbon emission peak and carbon neutrality, swop introduced the "Green Power Zone" and will present you a variety of new products:
Bio-based biodegradable plastics
Petrochemical-based biodegradable plastics
polylactic acid (PLA), polyhydroxyalkanoate (PHA), starch plastics, bio-engineered plastics, bio-generic plastics (polyolefins and polyvinyl chloride)
polyhydroxyalkanoate (PHA), starch-based plastics, bio-engineered plastics, bio-generic plastics (polyolefins and polyvinyl chloride)
disposable meal boxes, drinking cups, cutlery, shopping bags, bubble cushioning wrap, air column cushioning wrap, etc.
Green degradable equipment
Packaging green treatment equipment/systems
bag making machines, film blowing machines, injection molding machines, meal box set making machines, paper pulp molding machines, etc.
Various green packaging business will participate in swop 2021, they include Ruizhi, Ounuo, Gardner, Yuto, Mr Bamboo, Hengxin, Decheng, Zhongyi, Zidan, Huawei, Beauty Star, Guolong, Jia Lian, Songtong Chuangcheng, TDBio, HSM, BAM, ExxonMobil, Ceville, Biopoly, IntopHolding, Reberet, Esun, Wanjie, Shunho, HGHY, CMT, etc. (in arbitrary order)
swop "Paper and Plastic Packaging Zone"
Moving to the huge market of major packaging printing factories and terminal brands
Focusing on sustainability and recyclability, swop 2021's "Paper and Plastic Packaging Zone" is committed to promoting the upgrading and transformation of traditional enterprises, and will demonstrate new packaging technology for 8 major terminal applications (including: food, beverages, cosmetics, pharmaceutical, confectionery, bakery, non-food consumer goods, industrial products), showcasing materials that range from:
Paper-based materials, biodegradable materials, specialty papers, tableware packaging papers, various packaging papers, etc.
Pulp molded products, paper-plastic tableware, paper-plastic cups, paper packaging products and solutions, etc.
Paper plastic molding equipment, paper container equipment, paper packaging equipment, etc.
swop's previous exhibitions attracted many professional buyers from:
Printing and packaging companies such as: Yuto, Yafeng, Zidan, Advance, Wanying, Mancheong, Mingfeng, XianJunlong, Beauty Star, etc.

Terminal brand companies such as: Sanyuan, Master Kong, Wantwant, COFCO Packaging, Moutai, Guojiao, Wuliangye, Chunghwa Cigarette, McDonald's, Haidilao, Starbucks, Fresh Hema, Procter & Gamble, Blue Moon, Perfect Diary, Yunnan Baiyao, Neptune Star, Harbin Pharmaceutical Group, SF Express, FedEx, Deppon Express, JD Logistics, Apple, Changhong and other well-known brands in the food, tobacco and alcohol, food and beverages, daily chemical, pharmaceutical, logistics, and electronics industries.
Discover more market segments
that "packers'' are interested in
Messe Düsseldorf (Shanghai) Co., Ltd. and Adsale Exhibition Services Ltd.will join hands once again to present the Shanghai World of Packaging (swop) in Shanghai New International Expo Centre from 23 to 25 November 2021. swop will cover end use industries such as food, beverage, confectionery, baked goods, pharmaceuticals, cosmetics and daily care products, non-food consumer goods and industrial goods, providing an excellent trading platform for domestic manufacturers of processing and packaging machinery and materials.
The upcoming edition of swop will focus on artificial intelligence, printing and labeling, e-commerce and logistics packaging, personalized packaging, packaging design, etc., with the aim to provide innovative packaging solutions and showcase intelligent processing and packaging production lines for the entire industry chain. Five special exhibition areas are designed to cover all hot spots of the packaging industry.
Messe Düsseldorf (Shanghai) Co., Ltd.
Tel +86-21-6169 8381

Fax +86-21-6169 8301

swop@mds.cn
Adsale Exhibition Services Ltd.
Tel +852 2516 3363/ 523
Fax +852 2516 5024

swop.hkpr@adsale.com.hk